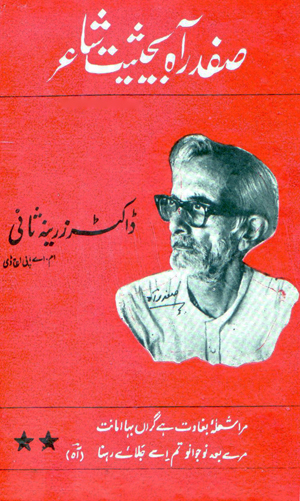 Safdar Aah Bhaisiyat Shair was published in 1979. The book is a critical survey and selection of six poetic works of Safdar Aah "Sitapuri" by Dr. Zarina Sani
Safdar Aah "Sitapuri" was well known shair and lyricist for several movies in the 40's and 50's. His notable works include "Amir Khusro bhaisiyat Hindi Shair", "Rubiyate Zamzama" "Tulsidas aur Ramcharitmanas" and songs for several hindustani movies, notable among them are songs from movies like Aurat(1942), Omar Khyyam (1946),  Roti (1946),Vishwas (1943), Maan (1954) and Pehli Nazar (1945) Singer Mukesh sung his first song "Dil jalta hai to jalne de" for this movie.
Devnagri transcription of the book will soon be available.